The general appearance of the beagle resembles a miniature Foxhound, but the head is broader and the muzzle shorter, the expression completely different and the legs shorter in proportion to the body. They are generally between 13 and 16 inches (33 and 41 cm) high at the withers and weigh between 18 and 35 lb (8.2 and 15.9 kg), with females being slightly smaller than males on average.
They have a smooth, somewhat domed skull with a medium-length, square-cut muzzle and a black (or occasionally liver) gumdrop nose. The jaw is strong and the teeth scissor together with the upper teeth fitting perfectly over the lower teeth and both sets aligned square to the jaw. The eyes are large, hazel or brown, with a mild hound-like pleading look. The large ears are long, soft and low-set, turning towards the cheeks slightly and rounded at the tips. Beagles have a strong, medium-length neck (which is long enough for them to easily bend to the ground to pick up a scent), with little folding in the skin but some evidence of a dewlap; a broad chest narrowing to a tapered abdomen and waist and a long, slightly curved tail (known as the "stern") tipped with white. The white tip, known as the flag has been selectively bred for, as it allows the dog to be easily seen when its head is down following a scent. The tail does not curl over the back, but is held upright when the dog is active. The beagle has a muscular body and a medium-length, smooth, hard coat. The front legs are straight and carried under the body while the rear legs are muscular and well bent at the stifles.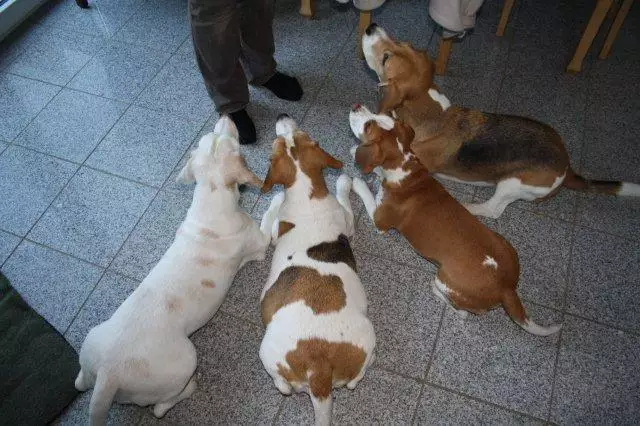 Beagle hound colors: Two-colored "tan and white" (older female with fading color), tricolored broken, 
two-colored "red and white", "tricoloured"
The tricolored beagle—white with large black areas and light brown shading—is the most common. Tricolored beagles occur in a number of shades, from the "Classic Tri" with a jet black saddle (also known as "Blackback"), to the "Dark Tri" (where faint brown markings are intermingled with more prominent black markings), to the "Faded Tri" (where faint black markings are intermingled with more prominent brown markings). Read More…